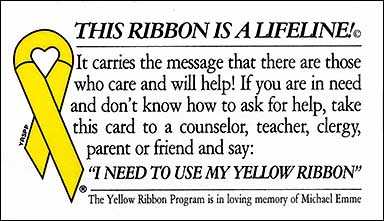 I got my computer up and going, well sorta. All that matters is that I am able to use something for now.It doesn't look pretty, more like a redneck computer rigging, but it get's the job done.
The reason for this post is well I thought I did the right thing by alerting someone and in all reality I think I may have done more damage.
There is an ex co-worker of mine whom I correspond with via facebook and myspace. She is somewhat of a loner, not too many friends, but a very shy nice girl. Over the course of a couple of weeks, she has been posting things such as " I wish I had the means of obtaining a gun because I would kill myself." Now, most people would just say ok she is having a bad day, but me knowing her prior history of severe depression and self injury I knew this was no joke. I don't know if she would ever do it, but I couldn't stop thinking about no one helping her. Everyone was reading this stuff for weeks, almost months, and no one even said anything to her or an outside agency about it. She even commented,"People have seen this message for months, and no one cares about it. I feel real unloved." It just kept getting more serious and serious.. So, I decided to take one for the team and say something someone about it. I didn't think I could talk to her about it because of her denying she needed help or medication in her previous blog posts about the situation. She would write things about how her pastor or counselor wanted her to get help and how she didn't need it, she was just mad about something and there as no problem. Naturally, I thought, she isn't going to listen to me about this if she isn't going to listen to them. Anyways, the outside source contacted her about this.. Somehow, it got out that I was the one who alerted them to her issues. Now, she has posted really nasty things about me on her myspace page and facebook page about how could I do this her, her family could have been a car wreck because of me causing them to worry, etc etc… This is the part that really bothers me. I did the right thing, or so I think, and I am getting shit on for what..SAVING HER LIFE???? Yeah, that's a small price to pay I guess to possibly saving her life by stepping up and saying something… If she wasn't serious about it, then don't post stuff like that. Coming from a field in education, its the similar situation. When you hear a student or a kid, saying stuff like I am going to put a bomb in the school or I am going to kill her, you have to take it seriously even if its a prank or not intended in that manner. Had I not said anything, something bad would have happened, and I would have felt horrible the rest of my life knowing I could have helped by saying something to someone.. You can't sit back and watch those things go unnoticed knowing the possible consequences if that incident does take place. Common sense tells us that, or at least it did to me.
I just feel like I did something right, something a parent should be thankful that an acquaintance took time to care enough about their child to alert the proper people about her possible suicide. Wouldn't you want to prevent that if you could?? Wouldn't you, as a parent, rather have the help than not have the help and be planning a funeral instead?? Shouldn't you be appreciative of this person's actions rather than blaming them for the temporary uproar they have caused? I would think getting a call saying your daughter just killed herself would be far worse and cause far more uproar than a call saying your daughter needs help.. But once again, maybe just that's me. I hope to think that if Kenley posted something like that, someone out there, would take it serious and call help for her.. Even if its not serious and she has chosen her words too harshly its better to be safe than sorry.. That's just my opinion I guess. I would appreciate it if someone did this for my child rather than sit at home, read the depressing posts about killing herself, do nothing, and then I get the call my child has actually done the unthinkable..
I did the right thing, I think. I just have to keep telling myself that.. And if they don't see that, well then I guess to them, it's just an inconvenience that someone put their family through this little crisis..Live in your bubble world people for one day I hope she gets help before the bubble bursts!!! BTW, I have deleted her from all communication with me. I figure I am tired of reading all the slanderous things about how I have ruined her life, when in reality, I probably just saved it….Hopefully, one day, someone will be thankful and appreciative. Until then, my conscience and soul will be the only ones!
Do a good thing for others, even if it means getting shit on along the way…Its good for the soul and great fertilizer for the plants!!
Comments/suggestions/encouragement is most needed!!!